Characters find fast, furious action in any kind of setting!
Jump into adventure as an explorer, soldier, thief, magician, pilot, superhero – anything you can imagine!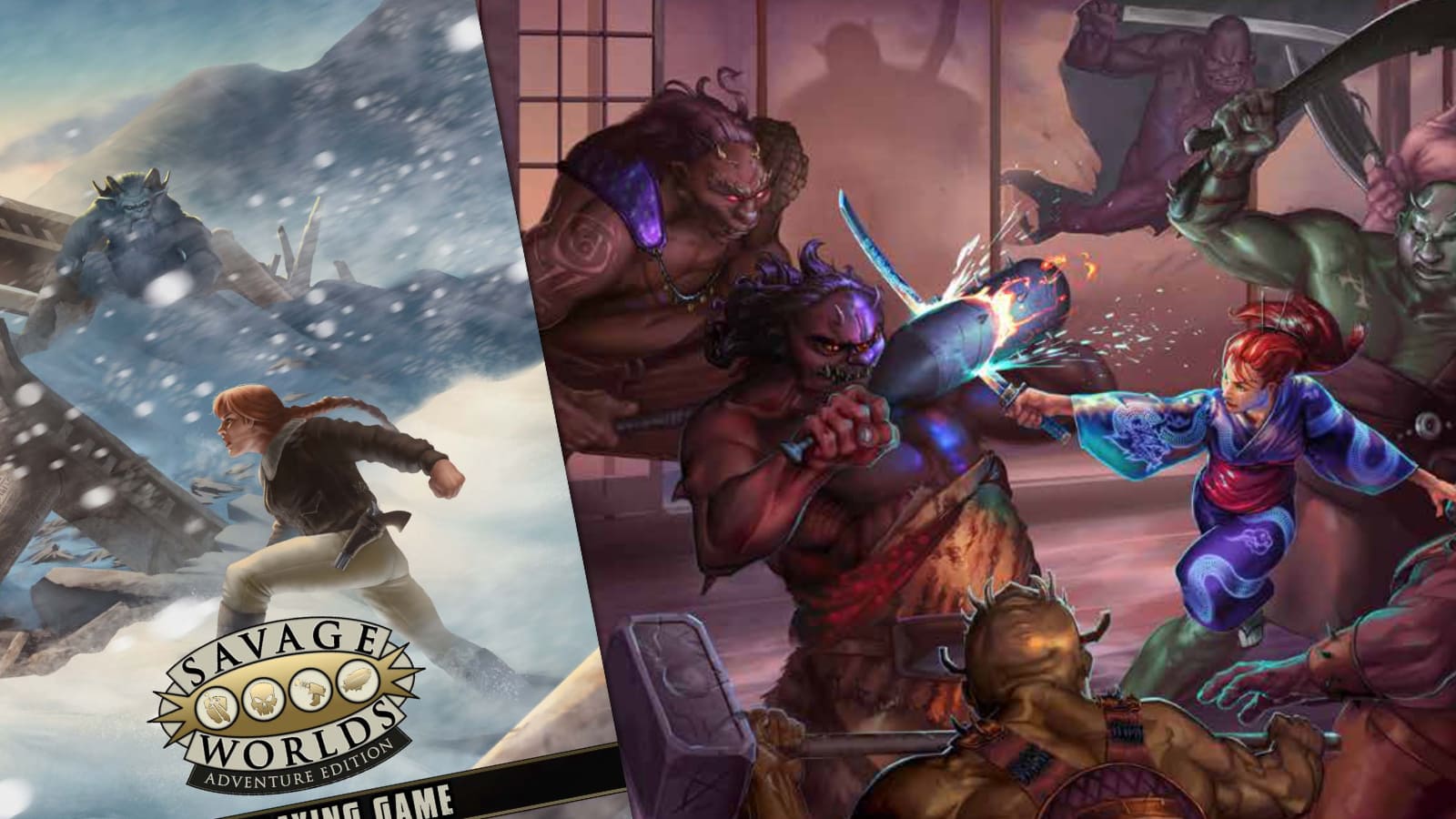 Savage Worlds focuses on easy character creation, combat that can scale from a bar-room brawl to a war between nations, and a fast-moving pulp-style feel. The game is well-suited to cinematic, heroic adventure.
It can be used for one-offs or campaign play, and there are many genre, setting and adventure books available.
Here's how publisher Pinnacle Entertainment Group describes Savage Worlds:
Savage Worlds has everything you need to play narrative or miniature-based games, with quick, simple, yet comprehensive rules for everything from combat to Dramatic Tasks, Chases, and Interludes.
What Fans Love About Savage Worlds
A wide variety of published settings – Pinnacle has published many setting books, and third-party settings for Savage Worlds abound.
Proficiency advances by dice type – Rather than adding a trait or skill rating to a roll, the rating is the type of die used in the roll; a novice shooter would roll a d4, while a sharpshooter might roll a d10.
Fast and flexible combat – Designed for use with miniatures, but playable without them, the combat rules focus on quick resolution and easy situation tracking for even large group situations.
Reviews
"Overall, we're really impressed with the changes to Savage Worlds, and recommend it highly to anyone looking at getting into role-playing games, or to those of you who are looking for a fast, fun, and reliable RPG system that can fit any mold." – Leigh Kade, Bleeding Cool
"Savage Worlds Adventure Edition is a very comprehensive, very accessible, detailed but fast toolkit RPG suitable to run games in almost any setting/genre with just the core rulebook." – Skaye, The Tabletop Almanac
See Savage Worlds in Action
Community
Try it for Free
Download the Savage Worlds Test Drive quickstart. This 24-page PDF includes the Savage Worlds Test Drive rules, Triple Cross, an adventure set in the fantasy world of Lankhmar, and printable game aids.
Buy It
Buy the book and PDF from Pinnacle Entertainment Group
Buy the PDF at DriveThruRPG