2017 Report & Plans for 2018
In what has become an annual tradition, I offer a year in review analysis of Unpossible Journeys and thoughts on what's coming in the next year.
2017 Traffic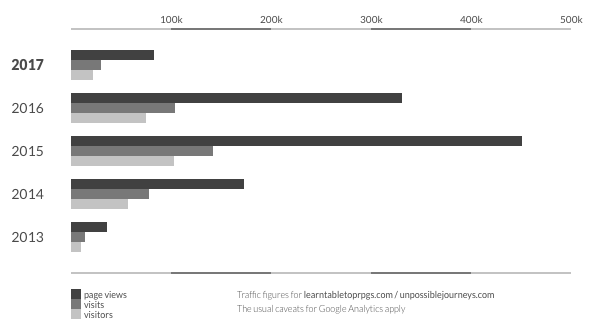 As this chart dramatically reveals, the 2017 decline in traffic was stark. It began in 2016 when I changed the site's domain name from LearnTabletopRPGs to Unpossible Journeys and simultaneously switched from a static site to WordPress. The domain switch sucked away Google juice I'd accumulated over the previous three years, and the jump to WordPress slowed page load times, which negatively impacted organic search visibility.
Ordinarily both of those factors could have been overcome through patient ongoing efforts – seeding links, spreading the word on social media, tuning the WordPress theme and optimizing it, and so on. But none of those things happened. I was busy working at a startup and the site, like much of the rest of my life, took a back seat.
Content Trends
The lower traffic volume makes content analysis a bit less useful, but there were still some interesting trends in 2017. The Find Games to Play page was the most popular yet again, followed in a distant second by Your First Game, the Star Wars: Edge of the Empire actual play review, and the Quickstarts page.
For individual games, Star Wars once again garnered the most interest. Dread, Burning Wheel, Dungeon World, Eclipse Phase, Mythras, 13th Age, and Symbaroum led the rest of the pack.
With much lower traffic came much lower affiliate sales on both Amazon and DriveThru RPG. Once again Microscope stood out, coming in ahead of Star Wars and D&D, which vied for second place in Amazon sales. After that it was a grab bag, with a broad mix of mainstream and indie games being purchased.
The Year to Come
After taking some time to think about what I want for 2018, I came away more committed to improving Unpossible Journeys and making it more useful and highly-trafficked. I also ditched the idea of switching platforms yet again. I'm not a fan of WordPress, but it's doing the job adequately. There's something to be said for sticking with the horse you're riding.
With that in mind, over the last few days I've done some WordPress and SEO optimization work, and made small tweaks here and there to content presentation. This required going through every single games page, but I'm happy that I did. I also added two more games pages – 7th Sea and Blades in the Dark.
For some time I've wanted to overhaul the Your First Game page to make it more useful. After extensive research, I've come up with a new mix of starting games, with more detailed info to help newcomers select a first game that works for their needs. This update is in progress and should be ready in the next few days.
Beyond that I'll be posting to the blog more frequently and working to bring in more content aimed at newcomers. In particular I want to make it faster and easier for an interested visitor to make the leap from thinking about playing to playing.
Don't Be Shy
If you're interested in adding your voice to Unpossible Journeys, let me know. I'm on the lookout for articulate, thoughtful collaborators and would like to make 2018 the year that UJ goes from one man show to something bigger.
For many of us 2017 has been a difficult year. We're living through chaotic times, and uncertainty is all around us. Stay strong, keep gaming, and have a safe, prosperous, happy 2018.
Ω